Tim Gillingham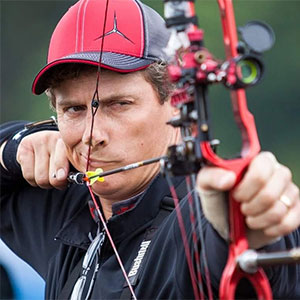 Name: Tim Gillingham
Age: 48
Height: 6'6"
Weight: 250 lbs
Years Shooting: 35
Occupation: National Shooting Staff Manager for Gold Tip Inc./Professional Archer
Draw Length: 33.5"
Indoor Setup

Bow: Bowtech Fanatic 3.0 60 lbs
Arrows: Gold Tip Triple X Pro with 200 grain points Mini HD pin nocks
Fletching: 4 fletch Vanetec 4" Vanes
Release: Tru-Ball Execute
Scope: Shrewd Small 7X with .019 fiber with LP Light kit
Sight: Montana Black Gold
Stabilizer: 36" Beestinger Premier Plus with 10oz in the front and 20" V- bar with 20-24oz
Rest: Hamskea Archery Solutions Versa-Rest w/ .012 blade in limbdriven mode
Bow Strings: Threadz Bowstrings/ BCY 452X 24 strand string and 26 strand cables
Quiver: Elevation
Optics: Bushnell
Outdoor Field and Fita Setup

Bow: Bowtech Fanatic 3.0 60 lbs
Arrows: Gold Tip Pierce Tour 250 /150 grain points/ Pro Hunter 300 w/170grain point.
Fletching: 4-2.25 Vanetec Swift vanes
Release: Tru-Ball Execute
Scope: Shrewd 7X with center drilled lens and red fiber or razor pin with LP Light kit. Black dot for Fita.
Sight: Montana Black Gold
Stabilizer: 33 or 36"" Beestinger Premier Plus with 10-12oz in the front and 20" Vbar with 16-20 oz or V-bars with the weight split.
Rest: Hamskea Archery Solutions Versa-Rest .012 blade in limb driven mode
Bow Strings: Threadz Strings/ BCY 452X 24 strand string and 26 strand cables
Quiver: Elevation
Optics: Bushnell
3-D Setup

Bow: Bowtech Fanatic 3.0 60 lbs
Arrows: Gold Tip Triple X Pro with 200 grain points Mini HD pin nocks (ASA Known Pro) (IBO) Ultralight Pro Xcutters
Fletching: ASA—4 -3.0 HD" Vanetec IBO—4 Vanetec 1.5" HP
Release: Tru-Ball Execute
Scope: Shrewd Nomad 6X(406 Optics) with .010 blue fiber/drilled lens with a LP light kit
Sight: Montana Black Gold Stabilizer: 30" Beestinger Premier Plus with 8-10oz in the front and 20" v-bar with 16-20oz split
Rest: Hamskea Archery Solutions Versa-Rest .012 Blade in limb driven mode
Bow Strings: Threadz Bowstrings/ BCY 452X 24 strand string and 26 strand cables
Quiver: Bateman
Optics: Bushnell
Hunting Setup

Bow: Bowtech BTmag X 75-80lbs
Release : Tru-Ball Execute
Arrows: Gold Tip Kinetic Big Game 200/ Gold Tip Platinum Pierce 250
Broadhead: Thorn 1.75"
Vanes: 4-2.25 " Vanetec Swift mechanicals and 4-2.88" Swift for fixed
Sight: Montana Black Gold
Stabilizer: Bee Stinger Pro Hunter or Counter Slide
Bow Strings: Threadz Bowstrings/ BCY 452X 24 strand string and 26 strand cables
Optics: Bushnell
Hobbies: All disciplines of archery with my favorites being 3-D, marked distance FITA and Field Archery, Bowhunting. I also enjoy fishing and a little golf here and there.
Release Style: I shoot a command style release, meaning it is not a surprise when I shoot the shot. I feel like it gives me more control in various conditions and fits how I aim better. Although mentally it is not for everyone, I personally believe a surprise release is not either. We all have different aiming abilities and the subconscious can be harnessed no matter how we fire the release. I do, however, work with the Hamskea Break-Through release to eliminate anticipation and create a strong dynamic shot.
Focus Point: I try to focus on where I want the arrow to go and try to train my subconscious to keep the follow through happening both physically and mentally. That keeps the mind from thinking about the release. It is very important to mentally pre-program each shot before you do it. This makes sure you are thinking positive and your subconscious is clear on what you want it to do.
Summary : I want to thank all of my sponsors and my employer, Gold Tip LLC. for the opportunity to do what I am good at and have a passion for. It truly is, a childhood dream come true. I have been shooting archery for 35yrs and have had my share of trials and tribulations. It is great to see the perseverance finally paying off.
I am best known for my style of shooting a release aid on command It has even garnered the nickname "the Hammer" that I receive some chiding about. I believe it is what makes me a very versatile shooter in almost any format of archery. I spend a lot of my practice time working on new equipment and judging yardage for 3-d events as the biggest amount of prize money to be won is in that format. I prefer marked distance as I believe it puts all archers on a level playing field and rewards the better archer rather than the better yardage judger, although I do prefer the scoring system that ASA uses that incorporates risk and reward into the tournament. One of my long term goals is to gain the credibility to facilitate the growth and organization of archery into an exciting promotable format that is enjoyed as a pastime for millions in the US and abroad.
My short term goals are to do the work I know I need to do to win enough tournaments to give me the credibility to be able to promote my sponsors and my employer as effectively as I can. I try not putting any more emphasis on one tournament over another, rather, I try to concentrate on each individual arrow and let what ever happens, happen. I strive to be a smart, calculated competitor that is well prepared.
Stabilization Tips: Hunting: Use your stabilizers to balance your hunting bow and add mass weight to your setup. I use a short stabilizer with an offset bracket to get the weight to left side of the bow to counter act the pulling weight of the quiver and the sight on the side of the bow. Also look for how the bow reacts when you fire. If the top limb is kicking back it will cause high arrows so make sure you add weight to the end of the stabilizer to counteract this. If I am hunting in a tree stand and not hiking a lot then I will use two stabilizers together with a front and a back using an adjustable side bracket. It will help you to have a heavier setup at the moment of truth when that big buck is headed your way.
Target: I try to keep the mass weight of my setup as heavy as I can handle and then just experiment with the stabilizer system to see what makes me hold the best. The beauty of the Bee Stinger system is that it is very versatile and allows for easy experimentation. I change the weighting on my stabilizer regularly depending on how I feel that day. I run a side bar with around 20 oz for about everything but field where I shoot a vbar setup. When I am shooting up and down hill as the long side bar close to the bow can get in the way when shooting a steep angled shot. I also use a 10degree down angle mount as it allows me to rotate the mount to get the weight on the end of the stabilizer directly in front of the bow.
Tips for hunters: Buy the best optics you can afford and trust your rangefinder. Make sure your sight is level and learn how to shoot at every angle and distance with precision accuracy. I also use the cut shot charts on the Archers Advantage program to give me the exact cut I need for up and downhill shots. The skills I have learned in field archery have really paid off in the field. My last 3 mule deer have required extreme shots with 12, 15, 15 yard cuts off of the rangefinder reading, all resulting in dead center kills. Today's new angle compensating rangefinders help very much but become familiar with them and if you are shooting extreme distances and extreme angles, be sure to check the rangefinder against a cut chart that is dead accurate.
Tips for tournament archers: Once you get to an experienced level of shooting, the game becomes extremely mental. The biggest asset you have is your confidence. Practice visualizing exactly what you want to happen before and after you shot each shot. See yourself winning in your mind and you will not feel intimidated when the time comes to perform. Your mind cannot tell the difference in an actual shot and a visualized shot. The same thing applies in a hunting situation.
I am continually striving to get the recognition for my sport and my sponsors to take archery to the next level as a televised national sport, with the ability for archers to make a professional living at the sport they enjoy. My goal is also to promote archery outside the hunting community and bring vast amounts of people into the archery experience that I am so passionate about.
Hunting Accomplishments:
• I have had the opportunity to harvest Alaska/Yukon Moose, caribou, Dalls sheep, Rocky Mtn. Goat, Sitka Blacktail deer, mule deer, whitetail deer, Rocky Mtn elk, and black bear with a bow.
• 2001 I was named Utah Bowhunter of the Year
• My biggest achievements come in the long-lasting relationships within a culture of people I have had the pleasure of meeting over the past 21 years of my archery career.
Target/3-D Archery Achievements:
2018
• 2nd place ASA Foley, AL Men's Known Pro
2017
• 2nd Men's Pro OPA
• 2nd European Pro Series Wales
• 3rd ASA Pro AM Foley, AL Men's Known Pro
• 3rd ASA SOY Men's Known Pro
• 3rd Big Sky Open
2016
• 1st European Pro Series Wales1st Men's Pro
• 1st Big Sky Open 1st Men's Pro
• 2nd IBO World Championship Men's Pro
• 2nd IBO Triple Crown Overall Men's Pro
• 2nd IBO 2nd Leg of the National Triple Crown Men's Pro
• 2nd IBO 3rd Leg of the National Triple Crown
• 3rd ASA Shooter of the Year, Men's Pro
• 3rd ASA Paris Texas, Men's Pro
• 3rd IBO Winter Nationals Men's Pro
2015
• 1st ASA Pro/Am Champion Men's Pro Newberry, Florida Champion
• 1st IBO Winter National's Men's Pro
• 4th ASA Pro/Am Ft Benning, GA
2014
• 4th place USA Archery So Cal Showdown San Diego, CA
• Bronze Medal US Target Championships, Hamilton , OH
• Silver Medal US Open Championship, Hamilton OH
• 6th IBO National Triple Crown, Bedford, In
• 2nd IBO National Triple Crown Marengo, OH
• 1st IBO World Champion Ellicotteville, Ny
• 2nd ASA Shooter of the Year Men's Pro
• 3rd ASA Classic Championship, Culman, AL
• 5th ASA Kentucky
• 7th ASA Texas
• 1st ASA Pro/Am Champion Men's Pro Newberry, Florida
• 1st ASA Pro/Am Champion men's Pro Tuscaloosa, AL
• 3rd Men's Pro Lancaster Classic Indoor Championship
2013
• 2013 IBO World Champion Men's Pro (new record no 8's for 50 targets)
• 2013 USA Archery Team Qualifier So Cal Showdown Champion Men's Pro
• 2nd 2013 NFAA Unmarked 3-D Nationals Men's Pro
• 2nd 2013 ASA Pro/Am Paris, Texas Men's Pro
• 3rd 2013 ASA Pro/Am Monroe, LA Men's Pro
• 3rd 2013 USA Archery FITA Field Nationals Men's Pro
• 4th 2013 ASA Pro/Am London, KY Men's Pro
• 8th 2013 IBO National Triple Crown Marengo, OH Men's Pro
• 8th 2013 ASA Pro/Am Cullman, AL Men's Pro
• 8th 2013 ASA Pro/ Am Metropolis, Il Men's Pro
• 8th 2013 ASA Classic Cullman, AL Men's Pro
2012
• 2012 NFAA Yankton Classic 1st place Men's Pro
• 2012 NFAA Unmarked 3-D Nationals Men's Pro
• 2012 ASA Pro/Am Tour Augusta, GA 2nd place Men's Pro
• 2012 ASA Pro/Am Tour Metropolis, IL 2nd Place Men's Pro
• 2012 IBO National Triple Crown Bedford, IN 2nd Men's Pro
• 2012 NFAA 3-D Marked distance nationals(Redding) 3rd Men's Pro
• 2012 NFAA Outdoor Field Nationals 3rd place Men's Pro
• 2012 IBO Triple Crown Overall 3rd place
• 2012 IBO World Championships Men's Pro 8th
• 2012 IBO Southern Triple Crown 5th
• 2012 IBO National Triple Crown Erie, PA Men's Pro 7th
2011
• 2011 Idaho Open Pro Freestyle Champion
• 2011 NFAA National 3-D Unmarked Champion
• 2011 Vegas " Lucky Dog" finalist to make the final shootdown
• 2011 NFAA Classic 3rd Leg of the 3-Star tour 3rd place Men's Pro
• 2011 NFAA Marked 3-D Nationals Redding, CA 6th men's pro
• 2011 ASA Louisiana 5th Men's Pro
• 2011 ASA Paris, Texas 4th place Men's Pro
• 2011 IBO Southern Triple Crown 1st leg 7th Men's Pro
• 2011 IBO National Triple Crown 1st Leg Bedford, IN 4th Men's Pro
• 2011 ASA London, KY 7th Men's Pro
• 2011 ASA Metropolis, IL 7th Men's Pro
• 2011 National Field Championships 6th Men's Pro
• 2011 NAA Field Championships 6th Men's Pro
• NFAA SHOOTER OF THE YEAR MEN'S PRO 2ndplace
• 2011 Big Sky Open 2nd Place Men's Pro
• 2011 State Formal Champion(New Record 899 out of 900)
• 2011 State Field Champion(New Record)
2010
• 2010 Idaho Open Pro Freestyle Champion
• 2010 ASA Paris, TX Champion Men's Pro
• 2010 ASA Augusta, GA 6th Men's Pro
• 2010 NFAA 3-D Unmarked Nationals 1st Men's Pro
• 2010 NFAA Yankton Classic 2nd Men's Pro
• 2010 NFAA 3-Star Car Shoot-Off Winner
• 2010 ASA London, KY 4th Men's Pro
• 2010 IBO Erie, PA Champion Men's Pro
• 2010 ASA Metropolis, Il 9th Men's pro
• 2010 IBO Nelsonville, OH 10th
• 2010 ASA Classic Championship, 6th Men's Pro
• 2010 ASA Shooter of the Year, 2nd Men's Pro
• 2010 IBO Triple Crown Championship, 6th men's Pro
• Seeded top 2 going into Buckmasters World Championship Aug 21,22
2009
• Selected as member of the 2010 United States Archery Team
• 2009 Champion 1st Annual Rage 100 yd Broadhead Shoot
• 2009 ASA Gainesville, Florida 4th Men's Pro
• 2009 ASA Hattiesburg, Mississippi 3rd Men's Pro
• 2009 ASA Paris, Texas 10th Men's Pro
• 2009 ASA Augusta, Georgia 5th Men's Pro
• 2009 ASA Metropolis, Illinois 4th Men's Pro
• 2009 ASA Shooter of the Year Men's Pro 3rd place
• 2009 IBO Southern Triple Crown Rome, GA Men's Pro 2nd
• 2009 IBO National Triple Crown Erie, PA Men's Pro 9th
• 2009 IBO National Triple Crown, Nelsonville, OH Men's Pro 9th
• IBO World Championship Ellicotteville, NY men's Pro 3rd Place
• IBO Shooter of the Year Men's Pro 2nd Place
• 2009 NAA Target Nationals 6th
• 2009 AZ Cup FITA Qualifier 5th
• 2009 Gold Cup FITA Qualifier 6th
• 2009 Utah Open 4th Men's Championship
2008
• 2008 IBO Southern Triple Crown Men's Pro Champion Calhoun, GA
• 2008 IBO National Triple Crown, Bedford, IN 4th place
• 2008 IBO National Triple Crown, Nelsonville, OH 5th place
• 2008 1st Place IBO National Team Champions
• 2008 ASA Men's Pro Champion Augusta, GA
• 2008 ASA Pro/AM London, KY 4th Men's Pro
• 2008 NFAA 3-d Pro Freestyle Men's National Champion
• 2008 ASA World Champion Men's Pro
2007
• 2007 ASA Florida Pro/AM Champion Men's Pro
• 2007 Las Vegas Archery Festival 2nd BHFS Championship
• 2007 ASA Hattisburg, MS Pro/AM 10th Men's Pro
• 2007 IBO Southern Triple Crown Calhoun, GA Champion Men's Pro
• 2007 NFAA Indoor National marked 3-D Championship 2nd Men'Pro
• 2007 NFAA 3-star Tour Pittsburg, 10th Men's Pro
• 2007 Arizona Cup 2nd in Qualifying round, 2nd in OR
• 3- HSO Pop-Up wins and one 2nd place finish
• 2007 Gold Cup (shot 1403 FITA) 2nd in Qualifying Round, 5th in OR
• 2007 IBO Triple Crown, 1st Leg Bedford, IN 2nd Men's Pro
• 2007 Big Sky Open ,2nd Men's Pro
• 2007 ASA Kentucky 10th Men's Pro(1st Sims)
• 2007 IBO Triple Crown 2nd Leg Erie, PA Champion
• 2007 ASA Illinois Pro/AM 9th Men's Pro
• 2007 3rd Leg National Triple Crown, Nelsonville, OH 8th Men's Pro
• 2007 IBO National Triple Crown Champion Men's Pro
• 2007 HSO Choctaw Casino Popup 1st place Money Divison
2006
• 2006 Las Vegas Archery Festival 5th BHFS Championship
• 2006 Las Vegas Archery Festival Marked 3-d Championship 6th Men's Pro
• 2006 Lancaster Archery Classic Champion
• 2006 ASA Florida Pro/Am Champion Men's Pro
• 2006 ASA Columbus Pro/AM 9th Men's Pro
• 2006 NFAA Indoor Nationals Marked 3-d Champion Men's Pro
• 2006 NFAA Indoor Nationals 9th Men's Freestyle
• 2006 Arizona Cup Qualifying Round Champion (New Tournament Record)
• 2006 Stanislawski Open Marked 3-D Champions Men's Pro
• 2006 Stanislawski Open 10th Men's Pro
• 2006 Utah State Indoor Champion Men's Pro
• 2006 ESPN Games (Hot Shots) Silver Medalist
• 2006 Big Sky Open Champion (Grand Junction, CO) ( New Record)
• 2006 IBO 2nd Leg National Triple Crown Erie, PA 6th Men's Pro
• 2006 ASA Metropolis, IL Pro/AM Champion Men's Pro
• 2006 IBO 3rd Leg National Triple Crown, 3rd Men's Pro
• 2006 NFAA Unmarked 3-D National Champion(record won by 38 points)
• 2006 NFAA National Field Archery Championship 8th Men's Pro
• 2006 IBO World Champion Men's Pro
• 2006 Big Sky Open, Mesquite, NV Champion Men's Pro
2005
• 2005 Lancaster Invitational 6th
• 2005 Florida ASA Pro/Am 7th (Set new Sim's Marked Distance record)
• 2005 Las Vegas Archery Festival 2nd BHFS Champ / 2nd Pro Marked 3-D
• 2005 NFAA State Indoor Champion
• 2005 Indoor National 1st Pro Marked 3-D/ 3rd ESPN Qualifier
• 2005 Gold Cup 3rd Seeding round(1389) 6th after Olympic round
• 2005 Big Sky Open 2nd Individual/ 1st Pro Team(new record)
• 2005 West Coast Triple Crown Eugene, OR 2nd
• 2005 NFAA Outdoor Nationals 3rd
• 2005 NFAA 3-D Nationals 4th
• 2005 NFAA Pro Men " Shooter of the Year"
• 2005 Las Vegas Silver Dollar Champion
2004
• 2004 Las Vegas Archery Festival 3rd place BHFS Championship/ Marked 3-d pro-7th place
• 2004 NFAA Indoor Nationals 4th Men's Pro FS/ Marked 3-d pro -5th place
• 2004 Atlantic City Archery Classic Marked 3-d, Men's Pro-2nd place
• 2004 NFAA State Indoor Champion Pro FS
• 2004 ASA Myrtle Beach Pro/Am Champion Men's Pro
• 2004 ESPN Great Outdoor Games Qualifier-1st
• 2004 IBO National Triple Crown, Bedford IN –6th Men's Pro
• 2004 Big Sky Open 1st Pro team/1st Pro-Am Team- 5th individual Men's Pro
• 2004 Redding Classic Trail Shoot-2nd Men's Pro Team
• 2004 Utah Summer Games 1st
2003
• 2003 Las Vegas Archery Festival BHFS 2nd/ marked 3-d-3rd Men's Pro
• 2003 NFAA Indoor Nationals 5th Men's Pro-marked 3-d-3rd place Men's Pro
• 2003 ASA Louisiana Pro/Am 1st Sims/ 17th Men's Pro
• 2003 ASA Tennessee Pro/Am 8th Men's Pro
• 2003 Big Sky Open 5th Men's Pro – 1st Pro Team/ 1st Pro-Am Team
• 2003 ESPN Great Outdoor Games 6th place
• 2003 Atlantic City Archery Classic – 15th Men's Pro – 3rd ,marked 3-d
• 2003 Over 20 1st place finishes in local and regional tournaments
• 2003 Las Vegas Silver Dollar Champion
2002
• 2002 IBO Winter Nationals 2nd Men's Semi-Pro
• 2002 Las Vegas Archery Festival BHFS Championship 5th
• 2002 Big Sky Open 2nd Men's Pro
• 2002 ASA Florida Pro/Am 27th –Men's Pro/1st Sims(set the record 134 0f possible 140)
• 2002 ASA Alabama Pro/Am 9th Men's Pro
• 2002 ASA Tennessee 1st-Sims
• 2002 ESPN Great Outdoor Games 10th
• 2001 Las Vegas Archery Festival BHFS Championship 7th
• Redding Classic Trail Shoot 12th Men's Pro
• NFAA Indoor Nationals 20th Men's Pro
• NFAA Southwest Sectionals 3-d 2nd
• NAA National Indoor 14th
• Utah State Indoor 1st
• Utah Summer Games Fita 1st