Jonathan Clark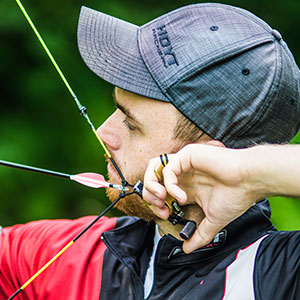 Name: Jonathan Taylor Clark
Country: United States
Bow Model Shooting: Prevail 40, SVX
Draw Length: 29.5"
RH/LH: Left Handed
Age began shooting: (very young I'd say 5 or 6) (I began tournaments in 2008)
Years on Hoyt Staff: One
Top achievements: Two ASA Pro shoot downs (known class), ASA SOY Champion (young adult), ASA Classic Champion (young adult), 4 ASA Championship wins, over 10 top 3 ASA finishes and multiple state championship wins in 3D, indoor and field.
Job: Media | Marketing Director & Shooting Staff Director for Last Chance Archery, LLC.
Bio: Hi, my name is Jonathan Clark. I work for Last Chance Archery and I'm an avid archer and hunter. I love being involved with a number of great people and companies in the archery industry and I love even more being able to enjoy this great sport week in and week out. From the 3D course to the stand I couldn't do anything I do without my ThreadZ strings and I'm very thankful to be a part of such a great team.
Type of release aid preferred: Tru. Ball thumb button or back tension. My favorites are the Fulkrum and HT.
Favorite archery game: 3D/hunting are my passions but I also enjoy indoor, fita and field.
Favorite event every year? IL ASA 3D or Redding Trail Shoot
Other Archery Sponsors: Tru. Ball | Axcel | Nikon | VaneTec | Easton | Archery Learning Center | Last Chance Archery, LLC | Feather Vision | Shrewd | My Lord and Savior
What is your most memorable experience in archery? Winning my first ASA Shooter of the Year, winning my first ASA Classic Championship and making my first shoot down at an ASA event in a Pro Class.
Best piece of advice for upcoming archers? (Other than "shoot a Hoyt" as I will add that anyway) Stay safe and shoot straight. Practice hard, listen harder and remember that you're never too good to listen and take advice from other shooters.
Something unique/interesting about yourself: I actually shot right handed from the moment I was big enough to shoot a bow until the end of the tournament season in 2010. I then, under the direction of my good friend and coach GRIV, decided it was time to at least try and swap over to left handed considering I'm left handed and left eye dominate. About a year after that huge transition my scores and results started to reach new heights that I hadn't reached before. I'm very happy to say the swap had positive effects after a very trying first year as a left-handed shooter.