Jeff Hopkins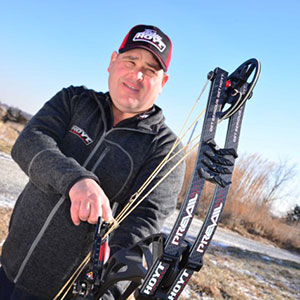 I am 10x world champion, 10X shooter of the year and have 65 national titles all accomplished in the pro class. I have been shooting professionally for 25 years and still enjoy the competitiveness this career offers. And I love to bow hunt!
Sponsors: Coming Soon
Family: Wife Tara, Son Scott, Daughter Jena and grandkids - Ricky and Rosalee, and my parents - without them I wouldn't be where I am.
Shooter Profile:
1. Hoyt Prevail
2. Easton super drive 23's
3. AAE vanes and rest
4. Doinker stabilizers
5. TRU Ball and Axcel Sights
6. Shrewd scope
7. ThreadZ bowstrings
8. Bcy
9. Realtree
10. Delta McKenzie Targets
11. Last Chance Archery
12. 4L Transport LLC
13. Hopkins Waterfowl Hunting
14. DVAAP - disabled veterans archery assistance program